Robyn began riding when she was five, owned her first horse at eight, began Eventing at age ten and was Area VI Young Rider Champion for 1998. Robyn began her university studies at U.C. Davis in 1998 where she majored in English. She then chose to take time off from her school to focus on her riding. She moved to France at the end of 2000 to train with French Olympian, Jacques Dulcy in Avignon and competed all over Europe while there. In 2002, Robyn decided to finish her education at U.C. Davis and graduated in 2003 with a B.A. in English and a minor in Equine Enterprise. Robyn continued competing while in school and was the top rider in California for 2003 at both the Intermediate and Advanced Levels.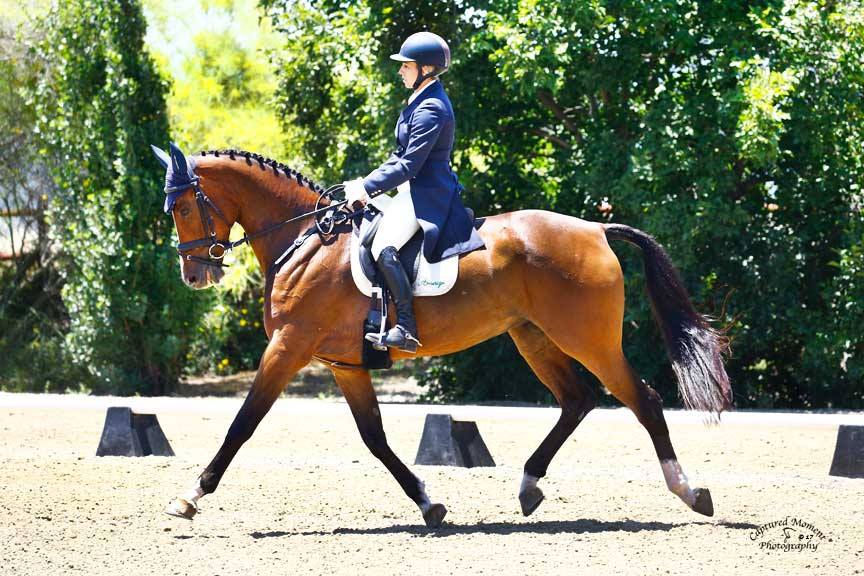 In 2004, Robyn was long-listed for the Olympic Team. Robyn competed in the Rolex Kentucky **** in April 2005 with partner Le Samurai and competed at the Eventing World Cup in Sweden in Fall 2005. Robyn trained with USET Coach Captain Mark Phillips in the United States Equestrian Federation team winter training sessions in 2005, 2006, and 2007. In 2006, Robyn and her mare, Lady Calido, won the CIC** at Galway Downs and the CCI** at Twin Rivers. In the Fall of 2006 Cali moved up to the Advanced Level to finish as Area VI "Mare of the Year" and "Open Intermediate Horse of the Year." In 2007, Robyn moved to England for three months to compete and train her horses against the best riders in the world. After a successful spring, she moved home to California where she continued to train horses through the top level of competition. After a one-year hiatus in the show jumping ring for Cali, Robyn returned her to Eventing in 2009, when she won the CCI** in the Event at Rebecca Farm and the CIC*** at Twin Rivers.
After many rewarding and rigorous years competing at the top level of the sport, Robyn found her ambitions at a bit of a crossroads. Her keen eye for young horses had landed her some exceptionally promising prospects that demanded time and energy to develop. Robyn made the decision to focus her energies on the training of these young horses and found the process to be extremely gratifying. Robyn's training program caters specifically to the needs and personalities of her young horses and is customized to be appropriately challenging while also confidence building. She has had a hand in developing numerous horses that have gone on to have extremely successful careers across numerous disciplines with young riders and professionals alike. In 2016, Robyn made the trip to compete overseas in the 7-year-old FEI World Championships at Le Lion d'Angers in France where she and her mare Betawave finished in the top half of competitors. Read more about Robyn and Betawave's partnership on the 'Horses' page.
A large part of Robyn's career is devoted to coaching both amateurs and professionals alike. Robyn is a firm believer that putting in the hard work is paramount to achieving one's goals, personal or professional; the accomplishments of her students are certainly a reflection of this mentality. Robyn has had the supreme pleasure of watching the progression of her students mature from inexperienced amateurs to competitive upper level riders, with many of her students successfully fulfilling their dream to compete at the North American Young Riders Championship along the way. Some of the same students that Robyn taught as children are now upper level riders with ambitions of professional equestrian careers of their own. Robyn finds coaching students and helping them to achieve their personal best to be one of the most rewarding aspects of her career.
After years of competing at some of the most elite venues in the world, Robyn found herself curious to see the show ring from a different perspective. To compliment her experiences as a competitor and instructor, Robyn decided to explore the process of becoming a dressage judge. In 2011 she began a unique USEA program that allowed riders who have competed at the 5*level to earn an associate license that grants the ability to judge through Training level. Robyn found herself enthralled by dressage theory and philosophy and went on to complete further comprehensive training programs to gain experience. With the support and guidance of many of the top officials in the sport, Robyn successfully earned her USEF 'r' judge designation in 2012 and, in 2016 she earned her 'R' license. She is passionate about continuing to pursue this and was promoted by USEF to  'S' status, in order to judge Advanced level.  From here, Robyn has her sights set on FEI seminars that will enable her to judge at the international level. Robyn's experience as a licensed dressage judge is one of many reasons her training program extends beyond the arena.
In 2019, she achieved her USDF Bronze Medal with Hurricane as her partner. Her diversity of experience, from theory to execution, offers her students an all-encompassing education that is pivotal in their success moving up the ranks to achieve their personal goals. In 2019, she achieved her USDF Bronze Medal with Hurricane as her partner. And most recently, with her Grand Prix horse Kingston, together, they earned Robyn's USDF GOLD (2022) and SILVER (2021) Medal. Robyn received her LEVEL 2 FEI Eventing License in November 2021
Robyn's diversity of experience, from theory to execution, offers her students an all-encompassing education that is pivotal in their success moving up the ranks to achieve their personal goals.
"It's a privilege to work with Robyn, her experience spans through all perspectives of the sport as a rider, competitor, trainer, coach and judge. Her competitive background coupled with her unique skill set of being able to produce all types of horses classically to the highest level makes her a major asset to the people around her. She can not only ride to the highest level but can pass on this knowledge with a huge amount of care and passion which is reflected in the way her regular pupils ride." - Jock Pagett

To give a tax deductible donation to Robyn and her dreams, click here:

https://www.paypal.com/cgi-bin/webscr?cmd=_s-xclick&hosted_button_id=Y37A87W2U2YXQ&source=url